Features
Process
Specification
Features of AFL BS4449:2005 +A3 : 2016 GRADE B500B & BS4449:2005 +A3 : 2016 GRADE B500C:
High strength rebars yield strength over 500 MPa
A Substitute to Imported Rebars
Manufactured in a computerized controlled, highly automated, high speed continuous mill
Adheres to all aspects of British Standards (AFL BS4449:2005 +A3 : 2016 GRADE B500B & BS4449:2005 +A3 : 2016 GRADE B500C):
a.) Fatigue resistance
b.) RRA (Relative rib area)
c.) Rib geometry
d.) Mechanical properties
AFL Rebars are supplied with Mill Test Certificates
Delivered in pilfer-proof 2 ton bundles
AFL rebar bundles are supplied with two tags per bundle
Strictly adhering to UK CARES norms on Rebar attributes and manufacturing processes
Manufacturing Process: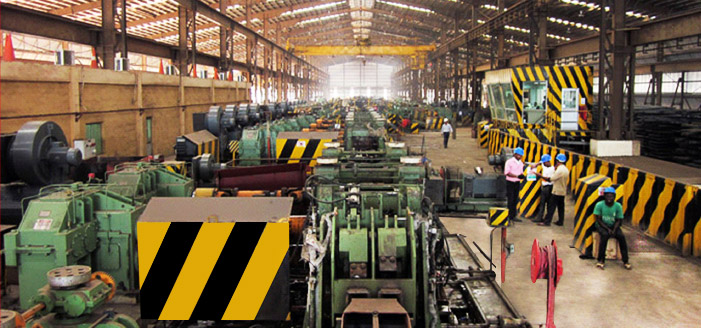 AFL is a Thermo-Mechanically-Treated (TMT) rebar.
In makng AFL Brand rebars, high quality billets are heated in a PLC controlled fully automatic reheating furnace. These heated billets are then passed through a continuous, centrally controlled, fully automatic state of the art rolling mill. This mill adopts high speed continuous rolling with very gradual sectional reduction and accurate temperature control of rolled stock, thus ensuring consistent product quality.
Immediately after the last roll, the red hot rolled rebar is passed through a cautiously controlled TMT box. The flow and pressure of water to this TMT quenching box is selected so that the process deforms the micro-structure of the whole cross section of the rebars. The outer surface gets quenched while the core remains red hot. Immediately after passing through the quenching box the core begins to temper the quenched layer and transforms into a high corrosion resistant high strength rebar.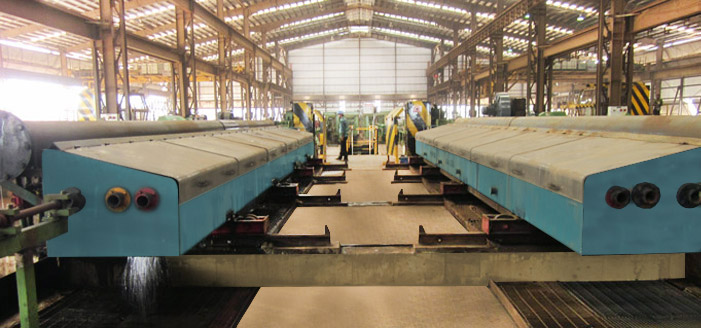 This quenching process transforms the quenched layer into a MARTENSITIC micro-structure while the core remains hot. Under shrinkage of outer layer the red hot core of the rebar gets pressurised and reorients its structure to AUSTENITIC which subsequently on cooling bed turns the intermediate layer into BAINITE and the core to PERLITE. The combination of the three layers provide high corrosion resistance and maximum strength to the AFL rebars.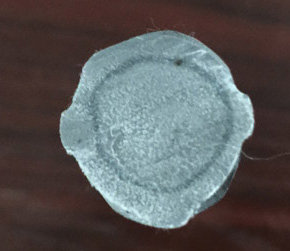 The three layers are visible after polishing and etching all AFL rebars
Quality Assurance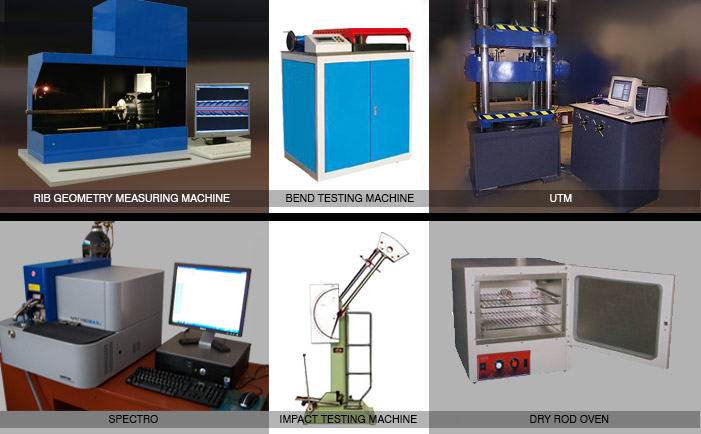 AFL is equipped with a self sufficient lab, equipped with all necessary equipment required for testing rebars. It has the facility to make mechanical property testing in conjunction with the production process and certifies product quality online. All AFL products are accompanied with full test certificates on the mechanical and chemical properties of the rebars.
The lab is manned by qualified and skilled personnel that are constantly being trained on changing requirements of quality testing.
The Premium Brand in Nigeria. AFL Brand is a symbol of our commitment to international quality standards.
Made from Premium Billets, AFL BS4449:2005 +A3 : 2016 GRADE B500B & BS4449:2005 +A3 : 2016 GRADE B500C Rebar is the most trusted BRAND in Nigeria for its consistency in Quality and Technical conformity.
| Chemical Composition | AFL |
| --- | --- |
| % Carbon | 0.22 Max |
| % Silicon | 0.30 Max |
| % Manganese | 0.60 Min |
| % Copper | 0.80 Max |
| % Sulphur | 0.050 Max |
| % Phosphorus | 0.050 Max |
| % Sulphur + Phosphorus | 0.095 Max |
| Mechanical Properties | |
| Yield Stress (N/mm2) | 525 Min |
| UTS/YS | 1.08 Min |
| % Elongation (at max load) - Agt | 5% Min |
| Weight Total % | As per standard |